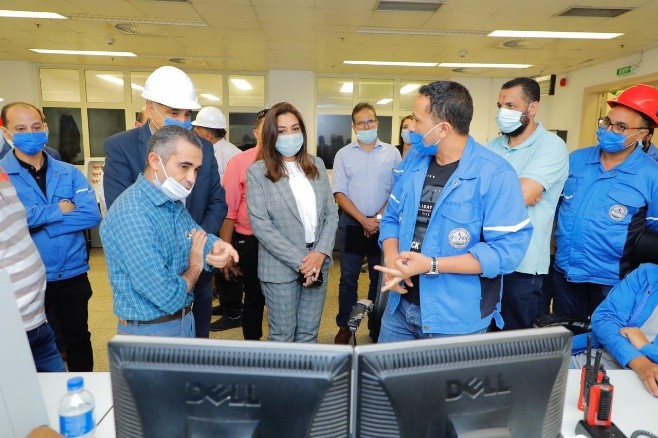 Damietta Governor visits the Egypt factory for the production of fertilizers "MOPCO"
3 months ago
Dr. Manal Awad praises the company's role in supporting the nitrogenous fertilizer industry and its commitment to quality standards and environmental requirements, and also praises Mopco's efforts in the areas of community contribution to support projects of public benefit in Damietta
On Monday morning, Professor Manal Awad, Governor of Damietta, made an inspection visit to the Misr Fertilizer Production Company "MOPCO" in the public free zone, where she was received by the accountant Hisham Nour El-Din, Chairman and Managing Director, who gave her a memorial shield in appreciation of her great contributions and cooperation. Permanent support for all projects on the territory of the province.
The governor witnessed a presentation about the company with its three units and its strategic vision for developing the fertilizer industry, and the successes achieved by MOPCO during the past six months, despite the outbreak of the Corona pandemic, were reviewed under the umbrella of strict preventive measures, as well as the procedures that it follows to adhere to environmental requirements. As well as standards related to occupational health and safety, to protect workers and citizens and preserve the environment.
In a related context ... the governor of Damietta, accompanied by Nur al-Din, conducted an inspection tour of the production, packaging and storage units. The governor also listened to a detailed explanation of the description of the production process that takes place through stages to reach the final urea product according to the highest levels of quality and safety.
During her meeting with a number of employees .. Dr. Manal Awad praised the company's role in supporting the nitrogenous fertilizer industry, which mainly meets the needs of the Ministry of Agriculture and Land Reclamation of urea, expressing her great pride in what she saw of the efforts that are based on scientific foundations comparable to global industries, and she also praised the contributions MOPCO in the fields of community development to establish projects of public benefit on the territory of the governorate to meet the needs of citizens, the most prominent of which was the implementation of the duplication of Ras Al-Bar Road and the completion of the Abdel Qader sewage lift station.